How to Purchase Your New Buick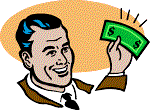 also known as: bs from AL
---
Buyer's Checklist
The question I have been asked the most has been about car purchases. Now, I am no dealer and am certainly not an expert on this subject. I have travelled via aircraft on more than one occasion to buy a car. I've bought wise, and stupidly.
So, here is what is has taught me about the subject.

Long Distance Deals
#1 Rule
... If it sounds like a
good deal
and is widely advertised, you can bet your ass that you are not the first person to call, and if its such a marvelous deal how come its still for sale? Ask yourself this a few times before getting in the car for a mad dash across state.
If the ad sounds like something you are interested in but there is no price listed, consider calling. Its amazing how few people will follow through. Most everyone else is thinking the same thing as you... "they must be asking too much for it". This is how I got my current Car. It was advertised in a national club magazine and sounded perfect but had no price. I asked for pictures, reviewed them and sent them back along with a thank you note and an offer. I figured that was the end of it until the Gulf War broke out and my phone rang. It turned out that only myself and one other guy in Virginia contacted the seller and he said OK to my offer. I had been seriously looking for a 396 so I had to ask him who he was and what the car was all over again as I had forgot what it looked like!
Ask lots of questions.
If you are getting serious, tell them so. Make sure and say how far away you are and ask them directly "will this car meet my expectations" and let them know just what you do expect. Several times a direct approach such as this will merit an honest answer. I've also been told yes to the above question... I drove 200 miles and when he showed me the car and offered to give me the keys I had to tell him "
I don't even want to sit in that thing
". This guy genuinely believed that his bondo-boat was god's gift to the highway.... well, it happens.
If you know someone in the area that the car is for sale in, don't bother them. Show up, empty his fridge, swap stories, whatever.... but do not ask them to go look at the car for you. Its fine to ask if they know about it but it is you that has to decide and only you know if you want the car. Asking a friend can be an awkward situation when they think its great and you don't... both of you end up feeling put out. This is a totally different situation if they call you and say "wow, I know where there is this.... ".
Dealers... well, you're on your own here. Someone is making a buck and I doubt it will be you. It is a great way for some people to go, but you wouldn't be reading this if you were one of 'em.

Don't rush the deal.
See rule #1.
Chances are the car you are looking at buying is a bit pricey but it's what you would like, so take the time and get the pictures sent. (then promptly return them). Ask for some numbers off the block and cowl tag. If they say 'what's that' and then in the next breath tell you its got the optional 3.73 posi, someone's not being straight.
Know what you want! Simple, but true. If its a 69 that turns you on, buy a book on them and go from there.
Buy one of those little testers called 'Spot Rot'. Cheapest investment I ever made. My wife carries it in her purse because you never know when the fever could strike. I''ve seen some Ok cars that looked fairly straight but the mud was deep enough to sag the rear springs. I really don't mind a little mud, as long as its not over rust holes... these cars are old and have been around... a couple of door dings and a ouch or two are part of the package.
Speaking about rust.
I live in southern British Columbia and they love dumping salt on the roads all winter long. I always ask about rust when I call. Is there any? whereabouts? how bad? a little 'surface' rust, a hole or two? how big a hole? can you throw a cat through it? Check the trunk, not just the floor but look up under the sides, you have to be a contortionist but this area can really tell a story as no-one bothers to clean this area up.
Floorboards? I don't know an easy way to check this... I usually step fairly hard by the gas pedal and the center of the passenger sides. Soft feeling or 'oil can' popping sounds are not good, check closer. Not many people offer to let you stick the car up on a hoist, but do it if you can. The lower front fenders on a lot of cars have a bad tendency to grow a hole. This doesn't mean the car is a rust bucket. GM never really got a handle on how to drain the fenders. A couple of leaves or 'heaven forbid', those damn pine needles get in there and plug it up. Rust can make even the best deal in the world into a hopeless project that turns into a money pit.
One other note of interest. A lot of southern US cars have rusty dashes. This was amazing to me until I found out why. Most Canadian and northern US cars have had their windshield changed, and more than once due to gravel and winter roads..... they call it sanding the highways around here.... actually they are good sized rocks that could bring down a fair size animal if used in a slingshot. The Chevelles used butyl sealer for the windshields and this stuff dried out and allowed water to leak in after a few years.... voila, one rusty dash. I've never had the 'pleasure' of changing this dash metal, but I understand it is not a pretty job. My SS had the original windshield and yes, it was getting a few pockmarks in the dash, a good cleaning and some POR cleaned this up.
Phone calls are cheap compared to a car purchase. If you don't have all the info you think you need, call again. I always have someone else call and ask similar questions. Its amazing how some of the stories change!
I always do a 'part out' on any prospective purchase. This means, what could I sell it for as junk! Not that its my intention, but its hard to go wrong if the car will part out for more than the selling price. This is my ultimate test before purchasing. Here's how it goes.... buckets..$250, bumpers..100, battery..25, engine..300-700+, trans.. fenders, options... this is where it can add up fast! Tilt steering..$250, air..300+, tach.. $200+ and so it goes. Its amazing how fast it adds up. I also make a list of what it needs and add that to the base price. Quite often the 'good deal' isn't as good as paying a bit more for the 'right car'. I hate spending money on front end work and exhaust... no one cares when you sell it.
Ok, here is my 'secret squirrel' list..... in no particular order.

Als List:

The phone call..... "hi, I'm calling about the car you have for sale, can you tell me a little bit about it." If the owner isn't there, no problem, ask whoever answers... some interesting 'pearls' can come out of this... like: yah, Jim's selling it.. it's real nice, he did a LOT of work on it, even did the bodywork himself. Now maybe 'ol Jim is a great bodyman, or maybe he's just handy with a spray bomb........ but its good info.
I ALWAYS have my wife call first (she's great!) and ask the questions. Most sellers are more patient with a woman caller and will explain things better. If it sounds good, its my turn and I ask a few more details as well as verifying what she was told. If the story doesn't match, thanks but good bye.
??????????
What year is it? Sometimes the ad is worded wrong and its a 77 not a 67.
What colour is it? Makes you sound like a bit dittsy.
Engine? Size.... condition. Original? (ask more later)
Trans? Auto / Standard / column or console.
I never ask the rear end ratio.
What is the interior like? Color, Condition..rips, buckets or bench.
How's the body, any dents or rust? If rust how much and where?
Do you know if its been painted? When?
How long have you owned it?
How many miles on the car?
How are the tires? What wheels or hubcaps?
Exhaust? stock or custom (headers)
Brakes? condition, disc or drum. Power?
How about Power steering?
Any options...? Air, power windows? tell me more!
Windshield Ok, or is it cracked?
What is the chrome like?
What does it have for a radio? any stereo?
Is it insured? eg.. are you driving it?
Is the engine stock? If not listen to all the mods and decide if that's what you want or can change it to suit your needs easily... 12-1 pistons are not an easy change.
And now the BIG one.... WHY ARE YOU SELLING IT?

I have heard so many stumped answers, dead air, and humms and hawws that I can't believe it.
---
Phase 2
(only applies to the 'original' crowd.)
If the car passes the above test get in your truck and go get it!
Just kidding!
Now call again and tell them you are interested and you would like to find out more about it.

Ask specific if its an original whatever and why they think it is. Let them be the 'expert'. Now is the time to ask about the VIN (vehicle identification number) in the doorjamb or on the top of the dash. Ask about the numbers on the cowl tag and if they could write them down for you. If not, why not? Have them send this info with a picture (if they can) to you via mail... assumming that you can wait that long. If you can't wait, offer to call back at a reasonable time to get the information.

Check this info with the book that you should have bought! If no book, Try the Tech Forum, maybe someone can help you out. Ask if they have any original documentation on the car, owners manual, whatever. Again ask how long they have owned it and where did they buy it. Pictures are really the way to go.. get as many as they can send and promise to mail them right back... AND DO IT! Don't leave 'em up on the mantle with the kids pictures for a month while you think about it.
From here on it is up to you and your family / friends to decide if it is what you want. My best advise is to pay as much as you can for the cleanest car that you can find. Frame off resto's are great, but it is a loonnnngggg time until that thing is ready to roll and this may cause you more grief and hassles than you ever imagined.... when this car hits the road you may hate it or worse yet, be afraid to use it. Buy a nice driveable car, use it, impress your buds, cruise a little, if you get the bug to do more work to it... great.... if you do nothing else -- at least you will have enjoyed the 'thumbs up' you will get from just cruising in a classic automobile..... you are making memories...... enjoy them while you can!!!!
That's all I have for you... you are now on your own!
Hope to meet you somewhere....
thumbs up!!!!!!!!