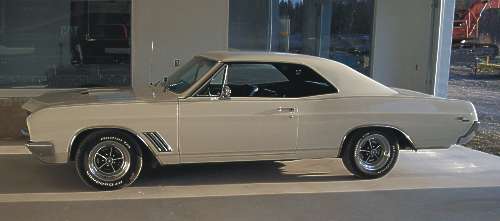 My 1967 GS 400!
I finally bought myself a '67 GS 400. I bought it sight unseen from a fellow in New Harmony Utah. He was the original owner! Not too many people have the oportunity to be the second owner of a 1967 car in 2003.
Mario had restored the car a few years ago in California. He had rebuilt the engine, gone through the transmission, repainted it, and cleaned up the interior with some velour inserts. He seemed pretty up front and honest, and after wrestling with my second thoughts I made up my mind to take a chance and buy it. I don't know that I got a good deal, I gave him his asking price. I don't think you are going to get deals long distance. Anyway, when someone asks me what any car is worth, I say it's worth whatever someone will actually pay! (Often a long ways from what some think!)
I sent him a deposit, commitment...:( The car was a good 18 to 20 hours drive away!) I called my brother and he agreed to sit in a truck with me for a few days!
We rolled into New Harmony about two p.m. on the second day. Mario was quite a nice fellow. He showed us the car and took us for a spin. We gave him the balance and loaded the car. It wasn't perfect, but it was definitly presentable.
I would have liked one with an auto and a full load. This one had a 4 speed, air, ps, tinted glass. At least it didn't need major work right now.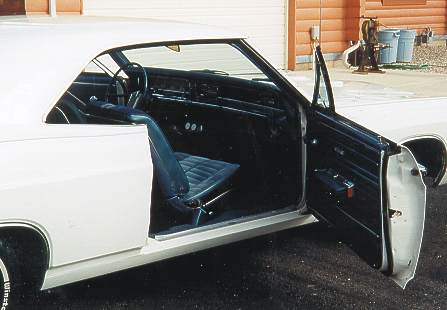 I got it home and went to work to fix some of the little things like getting that "Star Wars" air cleaner back on the engine. Mario had put a Carter on the motor and an electric fuel pump as a booster, so I suspected problems there. There were! The float bowl was loosing fuel, but the biggest problem was there seemed to be something wrong in the accelerator pump where the fuel passes through the top plate. I looked at the passages and vent carefully but could not determine a possible problem. The carb had probably been a rebuild replacement because it had a vacuum booster at the back. I had a more appropriate carb on a '67 Wildcat, so I rebuilt and used it. No more problems there.
I also had to get rid of the fits all rad hose! I haven't been able to find a proper one for the '67...:(, (so that's why it had the fitsall!). I took one for a Wildcat and chopped it as seen here using a piece of exhaust pipe to connect. It looks better. I also dropped the rad recovery jug down behind the rad mount so it was harder to see. I know the yellow wires may not be the most popular, but for now it runs!
I have also changed the seal in the a/c and recharged it. It works great!
I am about to order some wheels, they will be original style, but for the front they will have one inch more offset. This offset would be for disc brakes. I might order wider rims for the back. I am also going to order a set of front and rear sway bars right away.

I also have a 1967 430 in my shop, mmmmmm.....

Todos! By Spring...
New exhaust
New wheels and tires
Posi
Sway bars
Sound System
Headliner
Check out Seat backs

Ordered:

Wheels Vintique 7x15...:( Order screwed up... checking out ebay...
American Thunder exhaust