Hi, I'm "FLOW", I'm a 1950 Buick Super model 56C, I am owned by member Sam McEwen BCA # 9650 and his wife Sandy, Erie, Pa. I was purchased in Erie Pa. in 1950. Unfortunately my owner past away in 1951. I was turned over to his daughter at that time. When they first got me they could not leave me alone. We went for drives nearly every weekend and sometimes on weekdays and for a while the daughter drove me back and forth to school in Pittsburgh PA. Most of the time I was in the garage. Winters I spent in their warehouse in a corner. Towards an end of season drive one day in 1965. As usual, I went to the warehouse for the winter. This time was much different. They didn't come back, for over 20 years.
By the time they came to see me the weather had gotten to my interior and top, my chrome was shot, rusted and pitted, stuff was stacked around me, on me, in me. What a mess I was! They were going to take me somewhere to have me fixed up. Well let me tell ya, that didn't work out so swell either. After 3 years of little to no work, using pop rivets, tin and metal screws on what little work they did do, not to mention they changed my interior from leather to a cheep vinyl and did a poor job at that. The owners were not real happy about the work so they came to get me again and take me somewhere else. They took me to another shop to be finished. Needless to say, after a few months of no work at all they had me towed to what they called a storage warehouse.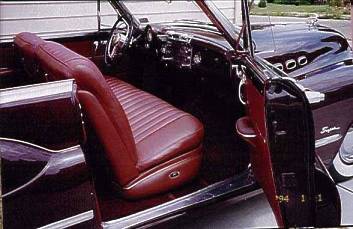 So they took me to this other so-called warehouse and WOW, this warehouse was very different. It didn't appear to be a warehouse at all, it was a glass and trim shop that just by a lucky chance also stored cars. When they towed me in I saw cars I used to see when we went on rides and to the drive-ins. 53 Chevy, 55 Sunliner, 48 Chry. Town and Country Woody , T-Birds. Them were the good old days that I remember. I haven't see real wood on a car in decades. I even seen a few cars that looked like they came from outer space. I've never seen such a thing. You have to remember I've been gone since "65". It's all new to me. You could see chrome shinning and smell leather in the air. Sure brought back memories of days long past. They looked so nice and new and I was a total mess. But, I was still a "BUICK", messed up or not. But I did notice Sam the shop owner's eyes opened pretty wide when I came in. He sure looked me over real good for someone that had just storage in mind. Well, up-stairs in the corner I went. After my owners husband became ill and I was not at the top of the list, I just sat in the corner. Which by the way, I was getting pretty good at by now. Sitting in the corner, that is.

As I said, "This place was different". Sam used to bring people up to look at me all the time. He'd even come up by himself sit in me and say "Someday I'm going to buy you get you back in shape". I'm saying WHEN ?? Well, One day 2 years later, he kept his promise! That is after a promise to the previous owner to take her for a ride when I was finished. Early 1995 I was sold to Sam and his wife. I don't need to tell you when Sam's wife first saw me she was not a real happy camper. She sure likes me now. I think I grew on her. We started my restoration X-mas 1995 and after 3 1/2 years, lots of banging and clanging, lots of yelling & ( Swearing ), and several $s later, I'm back, and as good as new. As promised we went to take my x-owner for the ride and she could not believe I was the same car. She said I looked better than the day I was new.

We have gone to 14 local shows and won 1st in class at all 14. We even managed 3 choice awards. One award was for the most chrome. Any wonder ? I put on my best outfit and I got a Gold Senior at the "99" Buick Nationals in Columbus. I also took a 1st at the 1999 Regionals in Independents OH. My owner was real happy about that. I guess it was all worth it after all. I'm real happy in my new home and I think my new owners are happy with me as well. I want to specially thank Woody for all the effort. He has well over 600 hours of rubbing glaze to keep me shinning and one step ahead of the competition at the shows. We joined the local chapter of the BCA and met several BCA members at the local shows. I must also say we had one hell of a good time in Columbus and Independents swapping stories and enjoying the cars.

The one local show we went to was a Chubby Checker Concert and Cruise. Chubby spent half the night doing a photo shoot sitting behind my wheel and made a couple stabs at taking me with him back to Philly. Sam was so shocked he never even got his autograph or a photo. But as you can see, he wasn't crazy enough to sell of me either. Alive and well again in Erie PA.

"Happy Cruzin" FLOW, Sam & Sandy McEwen B.C.A. # 9650

Visit Sam McEwen's ICQ home page

For Complete GLASS and UPHOLSTERY Service You Can Visit us on the web at https://www.Hedlundglass.com

McEwen's Hedlund Glass & Auto Seat Cover Company

138 E 12th St.  Erie, PA.  16501
Ph. 814-452-4790 / 800-404-479
                       OR
46 North Kendall Ave.  Bradford, PA.  16701
Ph. 814-362-7746 / Fax- 814-363-7567

"Your Safest Choice for Autoglass Replacement"