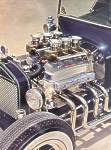 disclaimer!
Do not attempt any projects that you are not fully qualified to build and use!
Under The Hood At The Buick Shop
Come on into The Buick Shop!


This is an informal area for information relating to restoring Buicks. This 'shop' is open for use by all and includes many features to help your restoration.
Click here for our special racing section!
Restoration Series

Brian Martin's Body Shop

On Restoration, with Skip Cain
De-coding
Tech Help
.....Wes Vann's TECH REFERENCE!....

Big Block Tech Help


Small Block Tech Help


Straight Eight Tech Help

Buick Build Up Articles
The Big Purchase
Buick Related Books and Manuals
Free Programs
These excellent utilities from the Team Chevelle web site will help with your project.

New Shop Hints

When you are doing your wiring, put everything through a relay controlled by a switch at the door. All lights go out, compressor shuts down, the plug your stereo plugs to go dead. It's nice to know you didn't forget to shut of your compressor.
In case you ever want to paint in your shop, put at least a 12" pipe from the center of your paint area to the outside of your shop where you plan on mounting your exhaust fan. This way instead of drawing the air across you shop or..? you will pull the air down around and under the car. It will make for better flow and a cleaner environment.

Tool Talk


---